The Chief Scientist Office (CSO) currently has a group of volunteers (members of the Public) who form CSOs Public Engagement Group. The Group is co-chaired by Miss Barbara Lamb and Head of CSO Mr Ricky Verrall.
The Group membership currently consists of 11 volunteers who come from a variety of backgrounds but all have an interest in the NHS and Health Research in Scotland.
The main role of the Group is to provide a lay perspective on the activities of the CSO to ensure that the public view is taken into account in relevant policy and funding issues.
Following induction our Group attend a training/information day every 3-4 months to provide them with appropriate background information on research and policy developments within CSO and elsewhere. This mainly involves informative sessions with guest speakers as well as visits to research facilities. Some of the more recent sessions have involved the following:-
Looking after personal information during health informatics research
NRS Research Register
What is a clinical Trial – Methodologies
Stratified Medicine
Visit to Cancer Research UK – Edinburgh Centre
Establishing a Bowel Screening Unit
Scottish Music and Health Network
Below are a few pictures of the PEG visit to the Cancer Research UK – Edinburgh Centre in May 2015.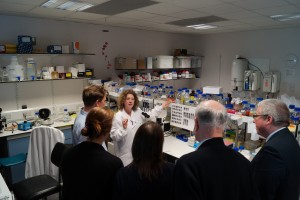 PEG members are well integrated into the work of CSO, serving as full members of the Experimental and Translational Medicine Research Committee (ETMRC), the Health Services and Population Health Research Committee and NRS R&D Directors and Officers Group. The terms of reference of the Group provides details of the members responsibilities.
An information pack is also available for our members which provide some useful background.
Volunteers
We don't currently have vacancies, but anyone interested in becoming a member should contact
Diane Lambert, Chief Scientist Office, GR, St Andrews House, Regent Road, Edinburgh, EH1 3DG – or on Tel no 0131-244-7953